New cabinet takes office in Taipei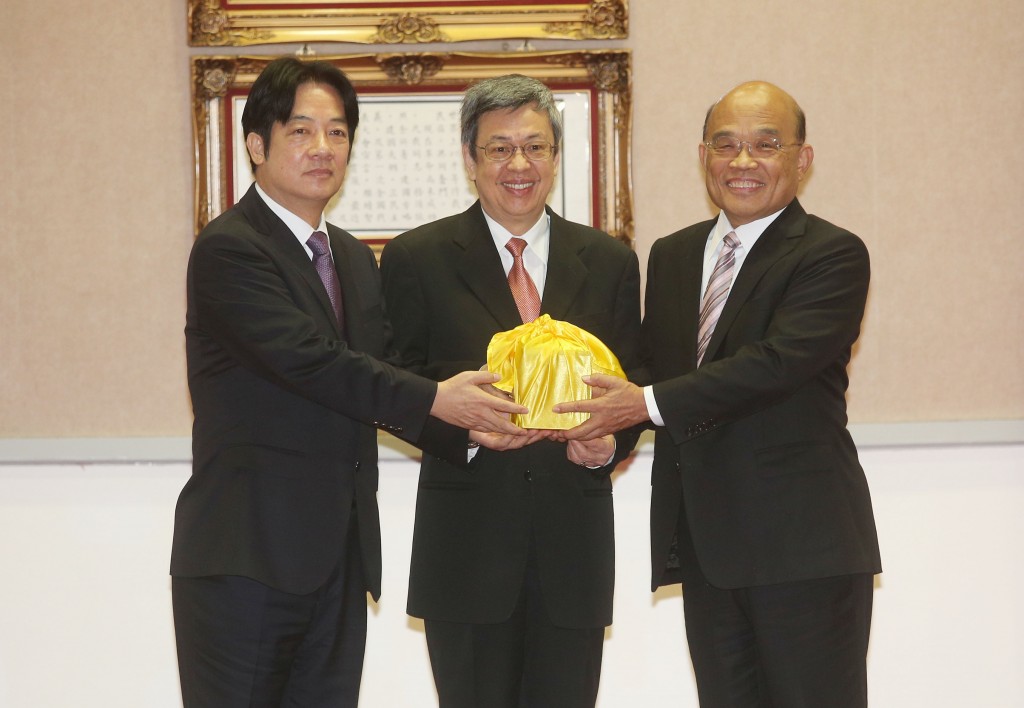 TAIPEI (Taiwan News) — Former Premier Su Tseng-chang was sworn in Monday as the new premier for the Tsai administration, four days after former Premier William Lai confirmed his resignation following the ruling Democratic Progressive Party's (DPP) landslide defeat in the local elections last November.
Characterizing the new cabinet as "down to earth," Su pledged to work hard and be transparent about changes his cabinet will make. After Su, new Vice Premier Chen Chi-mai , as well as other cabinet members were sworn in at the Presidential Office this morning, a handover ceremony was then held at the Executive Yuan.
Su was a former premier under President Chen Shui-bian from 2006 to 2007, during which his vice premier was current President Tsai Ing-wen. Taking up the symbolic stamp of the premier from Lai, which represents handing over the authority of the office, Su said only those who have taken the up responsibility of a premier can understand the weight of it.
One day after the 2019 general budget for the Executive Yuan was passed last Thursday, Lai officially tendered his resignation. "It is time," said Lai, emphasizing that he would take the political responsibility for the administration's setbacks observed in previous nationwide polls.
Su, who recently failed in his election bid against his Kuomintang opponent, Hou You-yi (???), for the office of New Taipei Mayor, was entrusted last Friday by President Tsai to be the third premier in her first presidential term, owing to his capabilities to lead, his experience in politics, and his innovative approach to campaigning which he exhibited during the election.
However, the majority of President Tsai's ministerial cabinet members from Lai's cabinet will stay on, including those managing foreign affairs, national security, economy, and culture. This has spurred some criticism from the opposition Kuomintang, which considers the new cabinet as not much different from the previous one.
Handing his responsibilities over to the new premier, Lai urged Taiwan's political parties to prioritize national interests over party interests, and that Taiwanese society to show solidarity in the face of China's growing attempt to annex Taiwan.
If political parties solely value their own interests and continue to prevent Taiwan from opening itself to global trade, either through obstructing the government from making free-trade agreements with other nations or from joining regional economic pacts, the country will have problems developing its economy, and enterprises in Taiwan will also face difficulty, said Lai.
Speaking of Taiwan's relationship with Beijing, Lai considers the solidarity of Taiwanese society the only way to confront the challenges posed by China, citing the "one-country, two systems" formula for Taiwan recently emphasized by China's leader Xi Jinping.
"The cross-Strait problem is grave, complex, and difficult to resolve, but it all comes down to Taiwan," said Lai. "When Taiwan is united, the nation will not only be able to resolve cross-Strait disputes, but Taiwan's national power will also greatly increase."
Back